The Gathering
For years we have seen a growing momentum as God calls His church to seek his face in prayer and worship. We are called to be a presence people.
So this year we are bringing the prayer and worship streams together, as 24-7 Prayer and Worship Central partner to host a major conference in Birmingham, the UK's second largest city.
Join us in 2017 for The Gathering
THE GATHERING // 26-29th October 2017
JOINT EVENT: Thursday 26th - Friday 27th
To kick off the event we will be gathering up to 3000 for a joint event at Birmingham's ICC, packed with prayer, worship and world-class teaching. After two days together we will split into Worship Central and 24-7 Prayer streams at different locations in the city.

[The event will start at 2pm on Thursday 26th]

WORSHIP CENTRAL STREAM: Saturday 28th
On Saturday the Worship Central Stream will be holding further training for Worship Leaders and teams at St. Luke's Gas Street. There'll be loads more space for extended times of worship, with lots of teaching as well as a chance to pray into the global vision of Worship Central.

24-7 PRAYER STREAM: Saturday 28th - Sunday 29th
On Saturday and Sunday the 24-7 Prayer Stream will carry on the conference at different locations around the city. This ticket will include the Saturday night party and auction in true 24-7 tradition.
The event will finish around 1pm
Book now
Location

TICKET PRICES

Video

Worship Leaders

Speakers

Accommodation

Venues
Location: ICC, Broad Street, Birmingham
Date: 26 Oct 2017 - 29 Oct 2017
TICKET TYPE
DATES
COST
1) EARLY BIRD
2) STANDARD
Joint Event
Thursday 26th - Friday 27th

£55
£60

Joint Event + Worship Central Stream
Thursday 26th - Saturday 28th
£75
£80
Joint Event + 24-7 Prayer Stream
Thursday 26th - Sunday 29th
£95
£100
EARLY BIRD AVAILABLE UNTIL 31/8/17
Event tickets do not include food or accommodation
REFUNDS - You have a period of 14 (fourteen) working days in which you may cancel your booking, starting from the day after the day you receive the email acknowledgement of event tickets. Working days means that Saturdays, Sundays or public holidays are not included in this period. Email events@24-7prayer.com
All information gathered will be shared in its entirety between 24-7 Prayer and Worship Central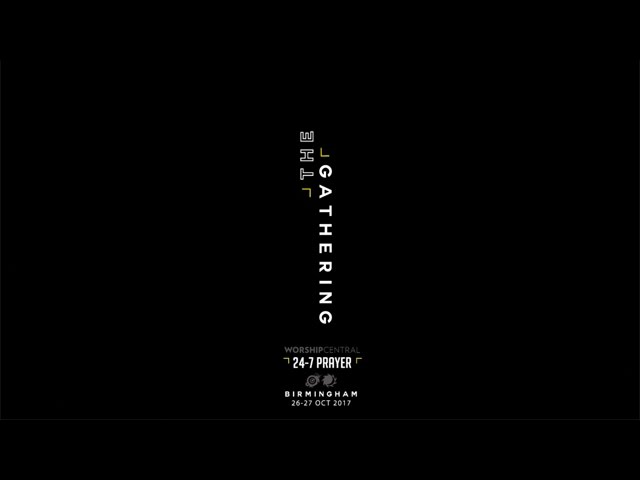 Jeremy Riddle
Jeremy Riddle is a songwriter and worship leader at Bethel Church. Jeremy has written many songs such as "Furious", "This Is Amazing Grace", "Fall Afresh", "God of the Redeemed" and "One Thirst". Jeremy and his wife Katie have five children and reside in Redding, California.
Amanda Cook
Amanda Cook is a songwriter and worship leader at Bethel Church. Amanda has written many worship songs including "You make me Brave", "Closer", "I will exalt" and "Shepherd". When she is not travelling, she and her husband Jacob enjoy life and community at home in Redding, California.

Tim Hughes
Tim leads Worship Central, and along with his wife Rachel have recently pioneered a new church in the city centre of Birmingham, St. Luke's Gas Street. Tim has written many songs including, Here I Am to Worship, Happy Day, The Way and Hope & Glory.

Luke Hellebronth
Luke helps to lead Worship Central with Tim and is based at St. Luke's Gas Street Church in Birmingham. He has written many songs including 'Spirit Break Out', 'Ready for You' and 'Stand Up'. Luke is married to Anna.

Anna Hellebronth
Anna is the worship pastor at St. Luke's Gas Street in Birmingham, as well as being part of the Worship Central team as a songwriter and worship leader. Anna is married to Luke.

Nick Herbert
Nick is a songwriter and worship leader whose co-writes include God's Great Dance Floor, Jesus Saves, The Same Power, The Way and Let It Be Known. He is also the Creative Pastor at St Luke's Gas Street in Birmingham. Nick is married to Ali and they have two children; Gracie & Josiah.

Josh Gauton
Josh is part of the Worship Central team as a worship leader and the ministry's Creative Director. He spent the last few years in London leading worship at Holy Trinity Brompton, and is now based in Birmingham as a part of Gas Street Church. Josh released his debut EP, 'As The Waters Rise', in 2016.
Seth Pinnock
Seth leads Symphony Co., best known for its summer event- Midnight Oil - which gathers thousands annually. The charity seeks to serve the local church through music, ministry and mission. Seth attends St Luke's Gas Street church. His debut 2015 Gospel album landed in the top 5 of the UK official Christian chart.

Danielle Strickland
Danielle serves in The Salvation Army as an officer – currently leading the social justice fight in the United States, Western Territory based in LA, California. She is internationally recognised in her capacity as a leader, speaker, writer, justice advocate, mission developer, and church planter. Danielle is passionately committed to seeing God's Kingdom come on earth as it is in heaven, is married, and is the mother of three boys.
Dr. Johannes Hartl
Johannes is the director of the House of Prayer in Augsburg, Germany which he founded with his wife Jutta in 2005, and they have been praying 24/7 since 2011. Johannes studied German philology and philosophy, and received a doctorate in Catholic theology in 2007. He is the author of 12 books on spirituality and prayer. Johannes lives with his wife and 4 children in Augsburg.
Pete Greig
Pete is one of the founders of 24-7 Prayer. He is also the Senior Pastor of Emmaus Rd, Guildford, England, an Ambassador for the NGO Tearfund, and teaches at St Mellitus Theological College in London. For 8 years Pete served with the senior leadership team at HTB and Alpha International. Pete has also authored a number of books including Red Moon Rising, God on Mute and 2016's Dirty Glory.
We will be releasing more contributors in the future, so keep checking back...
There are a number of local accommodation options around Birmingham city centre. Below are a list of average costs per room per night.
1) PREMIER INN, WATERLOO STREET
Distance from ICC: 10 minute walk
Cost per room: £99
Website Premier Inn, Waterloo Street
2) TraVEL LODGE BIRMINGHAM CENTRAL
Distance from ICC: 6 minute walk
Cost per room: £100
Website Travel Lodge Birmingham Central
3) PREMIER INN, birmingham cc new st station
Distance from ICC: 10 minute walk
Cost per room: £101
Website Premier Inn, Birmingham New St Station
4) PREMIER INN, BROAD STREET
Distance from ICC: 4 minute walk
Cost per room: £103
Website Premier Inn, Broad Street
5) crown plaza birmingham city centre
Distance from ICC: 10 minute walk
Cost per room: £110
Joint Event
Together as 24-7 Prayer and Worship Central, we're gathering at the ICC:
THe ICC Birmingham
Address: The ICC Birmingham, Broad Street, Birmingham, B1 2EA, UK
24-7 Prayer Stream
The 24-7 Prayer Stream takes place on Saturday and Sunday morning in locations across Birmingham:
Birmingham City Church (BCC)
Address: Birmingham City Church Parade, Birmingham, Parade, Birmingham B1 3QQ
The REP Theatre
Address: Library of Birmingham, Broad St, Birmingham B1 2EP
Worship Central Stream
The Worship Central stream takes place on Saturday in St Luke's Gas Street:
Gas Street
Address: 41 Gas St, Birmingham, B1 2JT